Wednesday, September 16, 2009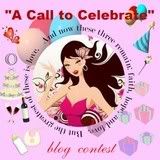 Wow, another contest! Haha. I'm getting fond of sponsoring them. Lol. If you would like to sponsor this one, too...hurry up since sponsorship runs until the
26th of September
only!
Let us join Gene in her
celebration of

life,

faith

,

hope

and

LOVE

!
Be a sponsor by offering any of the following: cash, EC's (entrecard credits), free blog makeover, ad space, web hosting, domain , blog review, freebies, or anything you think will please the future winners.
Once again, I am up for a 1-month ad space just below the adgitize ads. Plus, a blog review! Wuhoo, I'm into fixing my blog template for a new look and feel!