Thursday, October 01, 2009
Get to know what's hot this season by visiting Shutterfly and joining Azumi's First GiveAway Contest!
She is giving away
$50 worth of Shutterfly Gift Certificate
for her precious readers as a way of extending her appreciation for their warm messages and visits.
Could you be one of those lucky dollies?
Check this out:
HOW TO WIN?
Subscribe to her RSS feeds by email. Just enter your valid email address and verify.
(**required**)
Support this contest by displaying the contest's button on your sidebar. (choose one)
**required**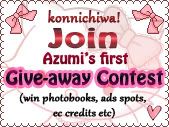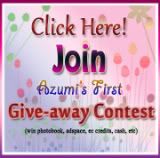 Increase your chances of winning through additional entries...
More details about the contests can be found here...
You can start by placing these ads on your blog:
+6 entries if you placed these ads within the first 10 days of the contest (sept 20 ~ october 10) til the last day ;
+3 entries if within the 2nd & 3rd week of the contest (oct 11~21) til the last day;
+2 entries within the last week (oct 22~) till the last day
Participants will be raffled via Random on
October 29, 2009.
Thank you to all her sponsors!